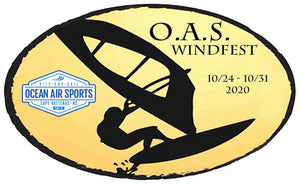 By purchasing the OAS Windfest registration you are simply notifying us of your intent to attend the event.  There will be no charge until you check in on Sunday morning.  At that point a $20.00 entry fee is due to enter the event and will cover all activities happening during the week.    

Choose a class the you will race in for the entire event.  Keep in mind we will run one day of high wind slalom racing and one day of light wind course racing.  You will be in the same class for both days.  
For class breakdowns about what gear is allowed, see the
main event page
.
No Foils for any class!!  It's not deep enough!!