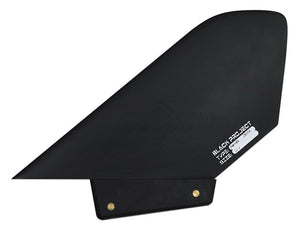 Ultra short freeride windsurfing fin for shallow and weed filled water
The Siren Freeride Delta windsurfing fin is designed for shallow water and thick weed locations. Who says that you need a massive 40cm freeride fin on your board?
Why do board companies supply their boards with such long fins for intermediate windsurfers which are cumbersome and often dangerous?
Windsurfing equipment has changed over the years (a lot!) and fins have increased in size, what this means for the typical windsurfer is that they are somewhat stuck with a big long upright fin as standard. This seems rather a backward way of doing things, it makes it harder to beach start, easier to hit submerged objects and most annoyingly really easy to cut yourself or damage your sail etc.
Black Project decided to make an ultra-short and compact freeride fin which would enable you to windsurf in shallow water, beach start with ease and avoid cuts from sharp edges.
The Siren fin range consists of four size options to cover all riders with a wide range of freeride boards and wind conditions.