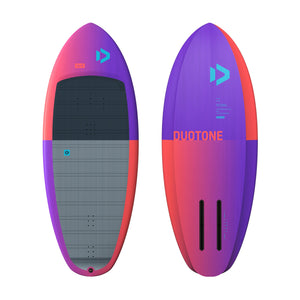 The 2024 Duotone Sky Surf SLS covers prone foiling and radical wing action in two shapes ranging from grom to mid weight ripper.
The Sky Surf SLS is the board for our team of young blood rippers sending new moves every day! For 2024 the Sky Surf SLS got finely tuned with the input of Finn and Jeffrey Spencer. The two smallest shapes in our range received a rocker update for better pumping abilities and more balanced foot pressure when being used in the surf – with or without a wing. 
Concave rail bevels make the board easy to grab and duck dive, as well as keeping the rails clear in tight carves.
The slightly recessed deck shape provides great stability and an optimized deck angle for increased pumping efficiency. 
The 25l 4'2" features additional footstrap inserts to adapt the stance even for the smallest riders well below 10 years of age!
The 35l 4'4" is our go-to board for all prone foilers out there, plus teenagers and lighter pro level wingers pushing the boundaries of our sport!