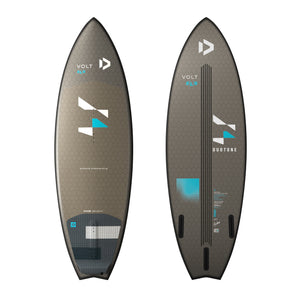 2024 Duotone Volt Concept Blue!  
Made in Italy, the Volt SLS is our first Concept Blue surfboard; the goal was to reduce the impact of the board on the planet and the oceans we enjoy. A Zero Impact Core, Bio Resin, Cork Stringers and Basalt Fibre are used instead of more traditional materials. Basalt replaces glass & carbon. This new material is both natural and plentiful, coming from volcanic rock, but it nevertheless offers very similar characteristics like carbon. It is incredibly strong and gives you a very responsive and lively ride. Wrapped around our Zero Impact Core is the Innegra Shield, which is incredibly durable and will ensure the board lasts a long time; this board also features our Cork Shock Absorber 2.0. 
On the water, the Volt SLS has a fast rocker line, perfect for getting going in light winds and ideal for offering lots of drive and speed on the wave. Perfect for smaller waves, the rail design allows it to perform tight vertical snaps while ensuring you have lots of grip through more drawn-out bottom turns. Incredibly fun to ride when the conditions aren't playing ball, the Volt SLS Concept Blue is the first in what will become a much bigger lineup of eco-friendly surfboards from Duotone.