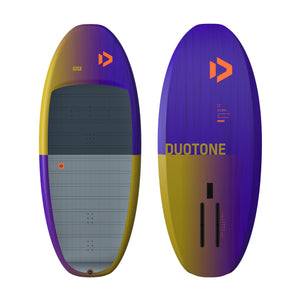 The Duotone Sky Style range is widely known amongst ambitious wingers for its incredible mix of take-off, landing and playfulness in the surf. Designed to evolve your style!
The Sky Style is amongst the most popular shapes out there when it comes to progressive Wing Foiling. Our design team has built on this success and refined the shapes with new features and an extra size adding even greater range to the new Sky Style SLS.
The base concept of extra rocker for highly responsive and intuitive reactions through increased leverage over the pitch of your foil is the heart of the Sky Style, making it incredibly balanced and fun to ride from flatwater to solid surf. The higher nose doesn't only give you extra room to load up for jumps; in combination with its high volume, it recovers incredibly easy even from steep landings. The deck recess of the Sky Style SLS offers a very balanced platform not only for starts, but also to sink these shapes in a controlled way for those riders using volumes below their body weight.
For 2024 we've increased the rail bevels on all Sky Style SLS shapes and pulled them way back, which adds higher clearance in the surf allowing the rider to draw tighter lines. By fading these bevels out towards nose and tail we've straightened the bottom contours improving the glide and the ability to pump these boards out of the water with an easier release.
The 45l Sky Style SLS 4'5" has been moved over from the Sky Surf range and adapted to the shapes of the Sky Style SLS. It's the next level machine for all lighter wing champs!
If you're ready to step down in size and up your wing-game – the Sky Style SLS makes it almost too easy!