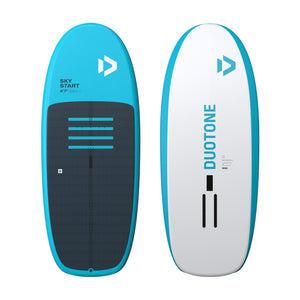 Learn Wing Foiling in no time with the 2024 Duotone Sky Start – the easiest possible entry into the exciting world of flying above the water!
Based on the Sky Wing Soft Top and the feedback of our unmatched network of schools and centers, we've updated the concept of the perfect learner board and designed the Sky Start.
With a length of 6'7", 31 inches of width and a volume of 155l, the completely new outline of the Sky Start offers a very stable and safe platform for those learning the basic steps from crawling onto the board to finding the right stance and their first take-off. For those riders being able to safely fly along and learning first gybes and tacks, the Sky Start is still compact enough for a great flying sensation to have fun and progress.
Covered entirely in soft and gentle EVA pad around the rails and the full deck, the Sky Start makes the entry into Wing Foiling as comfortable and user friendly as you possibly imagine!