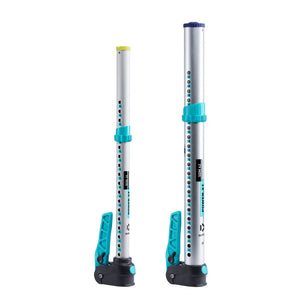 An inspiring (r)evolution – the POWER.XT 2.0 can do much more and do it better than the previous model.
And as POWER.XT 2.0 AERO RDM 34 it is also the most lightweight ratchet extension of all time! Beyond the basic idea, the POWER.XT 2.0 has almost nothing in common with the previous model any more. From the extremely solid ratchet mechanism plus lever to the simplified release mechanism, the high-strength Lyros® Dyneema harness downhaul lines and the option to retrofit the damper function – everything has been radically upgraded.
For many years, the POWER.XT has been the benchmark when it comes to extensions with trimming tools. Those who use it will never want to do without it again. Thanks to the integrated lever, it overcomes even the strongest downhaul forces, enabling perfect re-trimming or fine-tuning even when on the water. Even children could handle the extreme luff tension of modern slalom sails, each profile can be adjusted to millimetre precision in a matter of seconds. The 15 cm long lever and the ratio of 1:60 enable trimming without any noticeable effort.