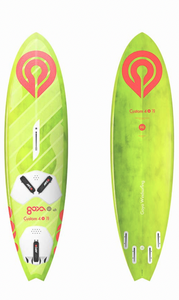 The new 2022/23 Goya Custom Quad is the board used by Goya's world champions Marcilio Browne, Maria Morales, Marino Gil and Francisco Goya. The Custom 4 Pro is the ultimate Pro Model custom wave board, as it is not just the shape but the same off-the-shelf board our team chooses to ride and compete on.
The outline on these new quads grew slightly in the nose and tail areas. Compared to the previous generation, the rail profile has been filled on the nose and thinned towards the tail.
The new rockers were adjusted to balance those changes, incorporating a fast surfing rocker that can still fit into the curve of the wave, whilst maintaining the early planing that will accelerate into any ramp or turn.
Bottom shapes seamlessly transition from panel V below the mast foot for added rail to rail and off the top rebounds, to Double Concave between the stance for a faster slippery bottom shape and then fading into a Single Concave in the tail for the ultimate turns.