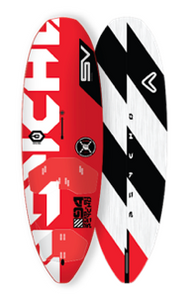 The Severne Psycho 3 is the next generation of the best freestyle windsurf board on the market, the Psycho 2.   It's taken the team at Severne four years of development to be able to bring a shape to the market that can out perform the Psycho 2.  The real challenge was to make another board that was just as good for both freestyle and for someone learning to jibe as the Psycho 2 is. 

The shorter length brings the Psycho 3 to another level when performing high wind freestyle tricks.  So much of the Psycho 2 was brought forward into this design since the board was already so successful.  The parallel rails help reduce the affect of the chop on the board leading to faster speeds and more control all while not reducing planing performance.   The volume flow remains perfect for lots of float under your feet while also keeping enough volume in front of the mast track to tack the board and perform old school tricks.   The Psycho 3 is simply the perfect blend of all freestyle possibilities.

Whether you are into old school carving maneuvers or new school double air moves, the Psycho 3 will take your windsurfing to the next level!  Stop by the shop and take one for a spin.


2023 / UPGRADES
/ REDUCED LENGTH
/ 12MM STRAP INSERT SPACING
/ POWER FOIL BOX