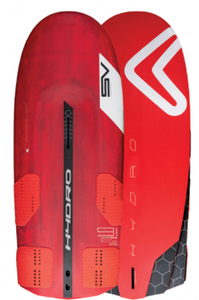 The Severne Hydro.  PWA Race Foil Board.  Only speed demons need apply.

The Hydro foil race board program is designed using inventive technology and computer modeling for scale tipping performance across all foil racing disciplines.
The Hydro 100 is the upwind/downwind machine featuring an ultra wide tail width, centreline bump, centreline foot strap inserts, and a VMG boosted shape for sails from 8,0 to 11,0.
The Hydro 91, 85 and 79 are foil slalom rockets; designed for "off the wind" reaching angles at high speeds, and to carry sails from 5,0 to 10,0.
Outline and shape focus on minimizing hydrodynamic drag, maximizing aerodynamic performance.
A deep cockpit is a game-changer for ultimate control in gybes, tacking, and balance when going all out.
Deep, pulled in cutouts reduce drag at take-off and minimise touchdown drag characteristics with the addition of a secondary step cutout. The final result; advanced bouyancy, slick release, unlimited boost into the air.
Volume distribution is maximised along board contours for a low drag aerodynamic configuration that allow you to get to those top speeds without effort and maintain stability at high velocities. Push the limit for longer time. Ergonomic pads and comfortable feet position reduce fatigue.