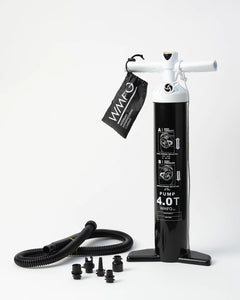 NEW, IMPROVED 4th GENERATION TALL KITEBOARD PUMP. 
Height: 24"/61cm (Extra Tall!)
Diameter: 4"/10cm
Capacity: 2.9L/Stroke
As the originator of the big, tall, oversized, kiteboard pump WMFG is proud to introduce the third generation pump 4.0T! WMFG was the first "tall" kite pump on the market and has always been the most feature-rich, kite pump with the best selections of nozzle, the best hose available, and at the leading edge of pump tech. The new and improved extra big, tall, high volume 4.0T kiteboard pump takes all the fight out of kite inflation. Easier, faster, and better ergonomics. 
Tech and Features:
High tech seals and pistons combined with newly molded handle and feet offer improved ergonomics and inflation speed.
NEW Single- to double-stroke inflation lever allows for instant change from high-volume / low-pressure inflation to low-volume / high-pressure.
Custom WMFG kite tether and hook
Kite-tuned WMFG pressure gauge with integrated sand filter
Premium high-flow and extra-durable hose with WMFG's threaded fitting

WMFG Parts and Nozzle

 

kit with the widest range of kite nozzles of any pump on the market 
Not recommended for inflation higher than 13 PSI. SUP nozzle included