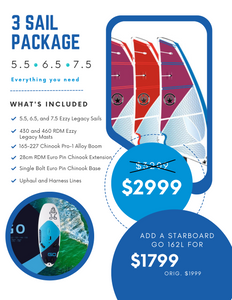 Introducing our 3 Sail Package! Complete with everything you need to get out on the water at a discounted rate. With this extended package your new quiver will cover an even wider wind range making you ready for any conditions. By including a 7.5 you'll have your lighter wind days covered.
What's Included:
5.5 meter Ezzy Legacy Sail
6.5 meter Ezzy Legacy Sail
7.5 meter Ezzy Legacy Sail
430 and 460 cm 60% Carbon RDM Ezzy Legacy Masts
165-227 cm Chinook Pro-1 Alloy Boom
28 cm Chinook RDM Euro Pin Extension
Single Bolt Euro Pin Base
Uphaul and Harness lines
Also need a board? 
We can add on a Starboard Go 162L for $200 off original price when you buy the sail package