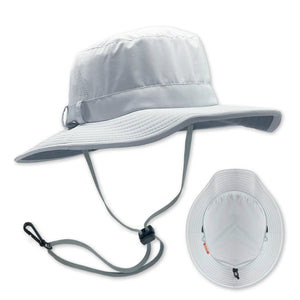 The Condor was created from feedback by our Shelta family who desired a sun hat style designed more for hot conditions and sun protection, than fitness related sports or activities. 
This more traditional looking style features a deeper crown for air flow and a wider downward angled brim for more UV protection.  A full vapor barrier liner keeps the fabric off of your scalp and allows air to flow through the laser cut venting holes and breathable fabric.. The new Condor does NOT have a stash pocket. This was done to make the hat lighter.
Still amphibious, the No Sag headband, No Flop brim technology and the fact it floats, makes the Condor water safe.  Perfect for cruising on the boat, digging in the garden, or just walking on the beach.
UPF 50+ Certified Eco Feather-Tech Fabric
No Flop Brim Technology (Patent Pending)
Removable Cord System (Patent Pending)
Full Vapor Barrier Interior Liner
NO SAG Perspiration Wicking Headband
Laser Cut Venting
Reflective Branding
Single Hand Size Cinch
Exterior Clip Loops
Floats
Limited Lifetime Warranty
Weight - Size M/L - 3.6 oz.
Brim Measurements: Front 3" Side 3" Back 3"