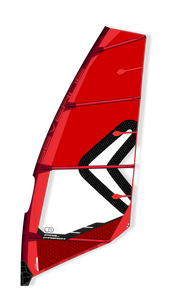 FOIL FREESTYLE PERFORMANCE
A collab with the creator of the foilstyle movement; Balz Muller. The FoilFreek is best described in his words;
"The FoilFreek is designed to give maximum lift. It convinces with the light handling and smooth reaction even in stronger gusts. Higher aspect ratios improve lift, speed and give more control.
The FoilFreek offers good sail profile even in low wind conditions! Its stable and easy handling makes it incredibly efficient to pump you up on the foil even with little sail pressure. And leaves everyone standing behind!
It has a huge difference between its loaded and unloaded states, so you can put it in neutral and duck it easily to boost yourself up from zero to massive in an instant. Further, the sail profile can be turned off to deliver the control to fly calmly through Duck Gybes or 360ies.
The FoilFreek was designed specifically for foiling, but when it comes to normal fin freestyling this sail will make freestyle artists happy with its incredible acceleration and aggressive lift in light winds.
This sail will not only please the daring foil freestyler but also any motivated foiler who wants to take his manoeuvres on the foil to the next level."