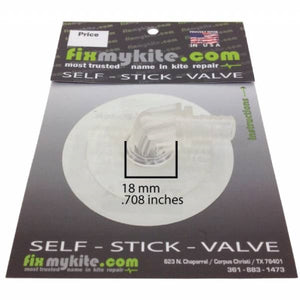 North Lazy Pump Gen. 2 Valve is the OEM valve North kites used for all one-pump connections from 2013-current 2016 models (Generation 2). Made with TearAid to work with any bladder. (Also compatible with 2015 or newer CrazyFly One-Pump systems.)
FixMyKite.com Self-Stick-Valves will stick on any bladder material or color. Simply peel and stick to make a fast and easy repair, or attach to a newly replaced bladder. The specially formulated adhesive is incredibly durable making for a permanent repair. Everything needed for installing the new valve is included in the package: alcohol wipe and detailed instructions.

MEGA Option: The MEGA valve option refers to the size of the TEAR-AID PATCH ONLY. MEGA patches are 4 inches in diameter as opposed to the standard valve patch which has a 3" diameter. This extra inch means 77% more adhesive base and surface area compared to the standard valve patch size. The MEGA-valve patch is necessary when the old valve is cut from the bladder or leaves a tear during removal. The additional surface area provided by the Mega valve Tear-Aid patch allows quick and easy bladder repair eliminating the need for an additional bladder patch. The Mega Valve Patch can also be used if the valve area of the bladder is warped.

If your old valve(s) cleanly peel(s) off, a larger Mega patch in most cases isn't necessary.