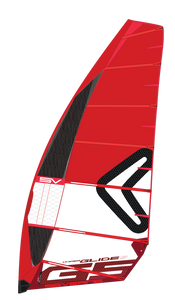 HYPERGLIDE 5
FOIL RACE
FLY FIRST CLASS.
Developed with Gonzalo Costa Hoevel (ARG-3) and Matteo Iachino (I-140) for the new world of foil racing, the HyperGlide 5 is set to become the most complete foil racing sail to date.
In sizes 5,0 – 8,0 the HyperGlide 5 is focused on full power slalom where top-end velocity and precision control make the difference between victory or carnage. Sizes 9,0 – 11,0 offer a tighter leech and deeper draft for extreme upwind/downwind performance.
Added power and the ability to point enable you to ride a smaller foil set-up in lighter winds; the key to going fast. A bigger sleeve provides the stability needed to handle the added power and improve low-end, as well as, upwind performance.
Regulated backhand pressure means power is always available when needed. Maximum control is achieved through stability – the less movement in the rig, the easier it is to maintain trim.
Ultra-high aspect ratios keep the boom length short, minimizing the distance profile can move backward. High skin tension and a rigid framework of 7 tube battens and 4 XL cams lock everything in place, creating a highly efficient race machine.
Trademark weight reduction throughout the HyperGlide 5 means you're racing on the lightest rig every time you power into a gybe you know you're doing it with less effort than the other guys. With a reduced foot, that ability to nail every gybe increases confidence. Fly first class.
5.0 / 6.0 / 7.0 / 8.0 / 9.0 / 10.0 / 11.0
UPGRADES FOR 2022
/ NEW, LIGHTER X-PLY SLEEVE MATERIAL FOR SOFTER FEEL / ADDED 5.0 AND 11.0 SIZES
/ LIGTHER FEEL
/ ULTRA-HIGH ASPECT
/ WIDER SLEEVE